Foot Reflexology
To feel good from head to toe
Foot reflexology is a very ancient knowledge present in different traditions. In fact, it appears on Ancient Egypt hieroglyphs.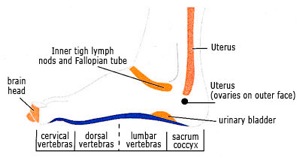 Foot reflexology considers our feet as a human body anatomy chart , its exact reproduction in a reduced model, where each reflex zone is associated to a body part. While manually stimulating different zones and points, foot reflexology improves the corresponding system mechanisms and body parts.
Foot reflexology also approaches feet as such, with their own sufferings. Our feet are our roots, the basis on which our body steps on the ground. Apart from the fact that they are often neglected, even ill-treated by shoes, our feet carry and bear all the body weight. Bad postures tensions have to be added to their burden and consequently to our weariness.
Foot reflexology has an immediate relaxing effect, beneficial to health. By liberating stress, it creates a sensation of quietness and well-being, necessary to natural balance.
Through the different techniques used (kneading, thumb walking and rubbing …) foot reflexology is excellent for blood and lymph circulation, it enhances oxygen supply in the tissues as well as toxins elimination.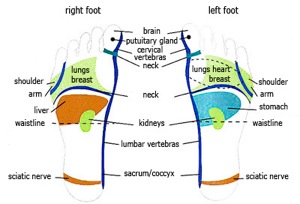 Foot reflexology is a real body-care method, as well as a means to work on people who usually do not like to be touched.
However it has deep effects, this gentle and respectful method permits to relieve those whose body is too weak or too painful to be approached differently.
In addition to her foot reflexology expertise, Marie-Hélène Reynaud Joanny has acquired knowledge and experience through the different massage and bodycare techniques she has studied.
This enables her to take into account the wholeness of each person, as any specific foot problem is inextricably linked with the body as a whole.
She specially likes this method, enjoying its both light and deep approach, the meticulous care it requires as well as the immediate relief it brings, in addition to other effects, slower to appear but lasting longer.
Marie-Hélène Reynaud Joanny is a foot relexology practitioner in Marseille
PS: As much as Foot Relexology is beneficial, it may not be substituted nor to a medical examination or to any medical follow-up.
© août 2000, MH Reynaud / JY Joanny.